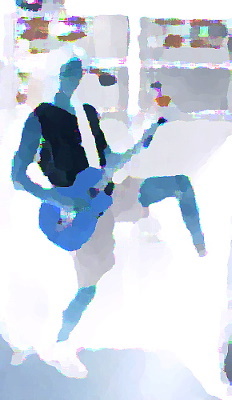 Based on a picture by Ron Pownall
Corporate America. The text is strictly "politically correct": if someone doesn't want to understand the contents, he can just hear the words without thinking about their inner strong meaning. You're a man of convictions, as your various involvements and actions prove it. You prefer to act in a useful manner, by communicating in a steady way for causes that need communication. You probably serve other causes that do not require public announcements, considering personal opinions about religion or politics are not to be merged with your public activities. You wouldn't write "Born in the USA", like the Boss did, even if you're "a cool rocking daddy in the USA". There is not a single religious allusion in your lyrics, and politics is never directly quoted. Yet, your official positions regarding environment, children protection, violence in general, joined to the fact that you are vegetarian suggest some sort of buddhist approach of life. My best guess...
Pictures of Tom Scholz. Two significant things on them, in my opinion: bermuda shorts and your smile. You're tall, much above the average, and it may be the explanation of the shorts. But did you wear the same clothes when you were an engineer working with Polaroid ? I don't think so: these offices are usually too cold for that ;) Jumping from the industry business jungle to the music industry jungle made you a free man, while your vision of life seems to have printed a permanent smile on your face. You have the smile of someone who managed to keep his life in the desired direction, without compromising his convictions.
In other terms, Mr Scholz, you're a man I'll never be, and that's probably what I find fascinating in your public image. We have several common points, probably share several common values, but you have a talent I don't have: as the leader of musical and technical teams, you made thousands of people dream, and you still do it. This is a priceless skill, and it's enough to say it again:
Thank you, Mr Scholz, whoever you are.
Jark
Bordeaux, France
May 2007